Yes, the AR-15 is already a great weapon. It is adaptable, precise, and incredibly powerful. One of the coolest additions to an AR-15 is a high-quality flashlight, even though you can purchase extra accessories like replacement triggers, scopes, barrels, and grips. One of the most useful accessories you can purchase is the best AR-15 flashlight. They can significantly enhance your shooting, particularly if you enjoy nighttime hunting expeditions. Here, we've compiled a list of the top AK-47 flashlights. Select the one you prefer as you continue reading.
Why Do You Need A Flashlight?
It might surprise you to learn that not all AR-15 flashlights are made with the same objectives in mind. Some flashlights are made to be used indoors at home, where a weaker light beam is required than when hunting outdoors. So, if you want to use it at home, you'll need a dimmer light.
A brighter light is advised if you need one for hunting. Most products are more suited to one application than the other, although some do offer a wide range that covers both indoor and outdoor use. Make a wise choice and opt for the option that best meets your requirements.
Best AR Flashlights
Best Affordable: Streamlight TLR-1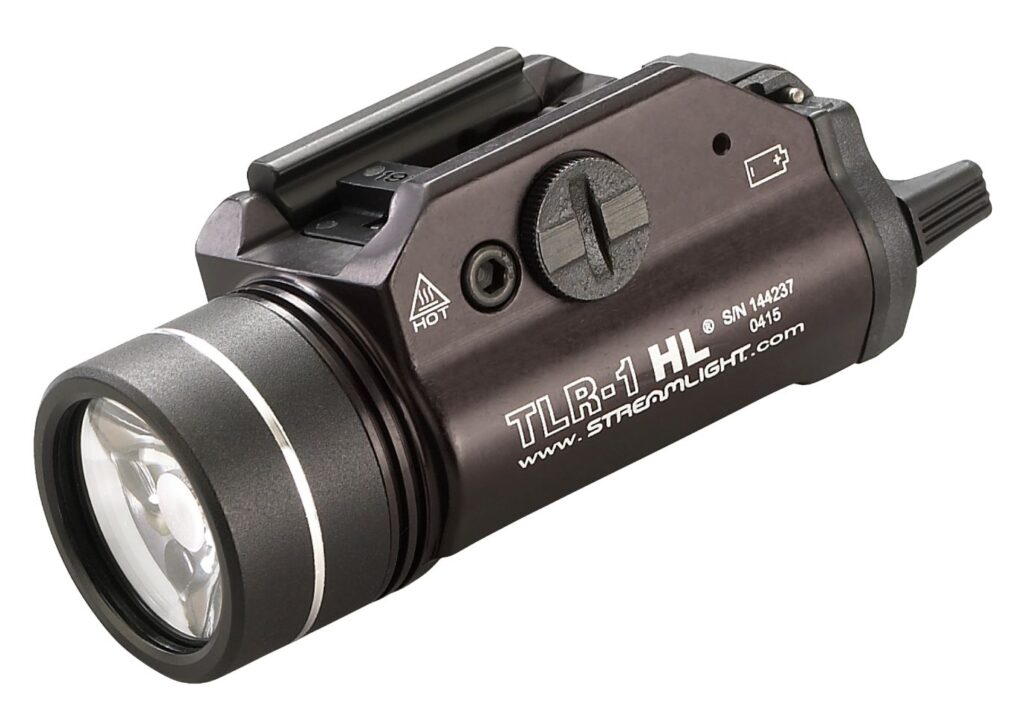 Given its low price, the 69260 TLR-1 HL Tactical is a reliable but lightweight flashlight that performs admirably. Its lightweight (4.2 ounces) makes it simple to transport. The weight of your AR-15 setup's accessories has a significant impact on its overall weight. Additionally, it's crucial to keep it to an absolute minimum.
With its C4 LED, which offers 1,000 Lumens and 20,000 Candelas of maximum intensity, this flashlight performs exceptionally well. It perfectly fits every AR-15 model and was made to fit a wide range of firearms.
You get an improved peripheral illumination thanks to the intense, concentrated beam of light it produces. The bulb can be used for thousands of hours, which makes this a very practical choice, as I also need to point out.
PROS
AR-15 torch that is portable.
1000 lumens of power.
Solid and long-lasting aluminum construction.
20,000 candelas peak intensity.
accommodates a variety of firearms.
Excellent TIR glass optics.
Convenient Snap-On rail mount.
CONS
For some, the light might be too intense.
Best Durable: SureFire X300 Ultra Series LED Weapon Lights
The X300 Ultra Series Weapon Lights are a sturdy and dependable flashlight that fits my AR-15 perfectly. It's also much heavier than every other flashlight on my list, despite being a model that is 7.2 ounces in weight and is considered to be fairly light.
Although it is heavier, the stronger construction gives it a heavy-duty, tough, and durable appearance. Its aerospace aluminum construction is to blame for this.
It only requires two CR123 batteries for power and employs ultra-bright LEDs with a maximum output of 500 Lumens. The beam produced by the slightly off-white LEDs appears yellowish/green.
Your vision in low light and the dark is greatly enhanced by this type of light, which is best for human eyes. This is among the best AR-15 flashlights available if you're a hunter who enjoys hunting both during the day and at night.
PROS
500 Lumens of maximum brightness from ultra-bright LEDs.
is powered by two CR123 batteries.
rapid mounting system
suitable with rifles like the AR-15.
able to withstand rain and the elements.
made from aerospace-grade aluminum.
Best Lightweight: Arisaka Defense 600 Series Flashlight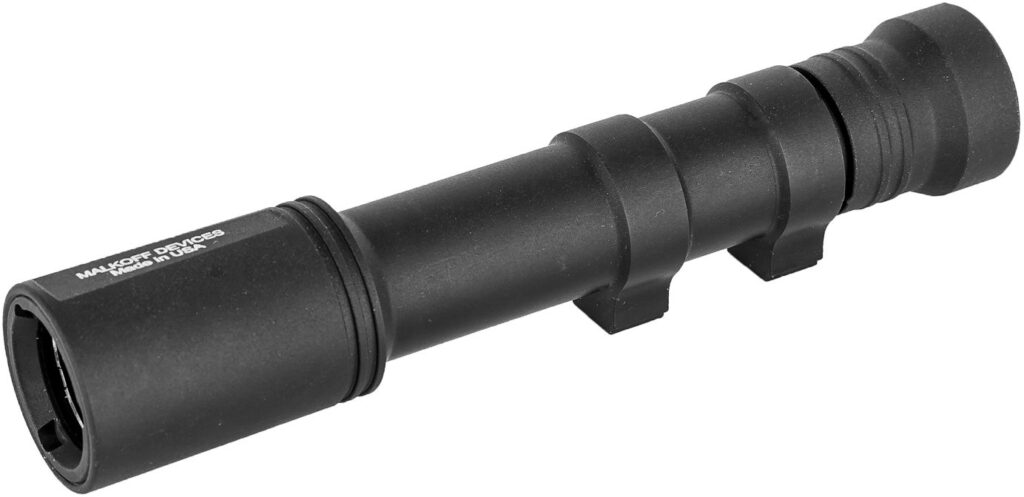 This Arisaka Defense 600 Series Flashlight is a powerful piece of equipment. A SureFire KM2-C White/IR Scout head bulb, a tail cap, and a flashlight are all included in the package. It is incredibly lightweight at 3.7 oz, making it the ideal hunting partner for exhaustingly long hunts.
But don't be fooled by the lighter weight; it can withstand some significant blows and continue to function at its best.
The hard anodized coating on this Arisaka 600 Series' durable aluminum construction protects it from the elements and corrosion. It's perfect for my AR-15 because it's weatherproof, waterproof, and resilient to strong recoil.
PROS
exceptionally light.
made of aluminum and finished with an anodizing process.
350 Lumens of peak light.
Weather-resistant and waterproof
resists violent recoil.
Best Efficient: Inforce MIL WMLX Gen-2 Flashlight

A strong rifle light with many options, the MIL WMLX Gen-2 Flashlight from Inforce is manufactured to military specifications. It's one of the lighter AR-15 flashlights I tried, weighing just over 4 ounces.
Fortunately, though, that had no impact on how durable it was. It is an extremely adaptable and useful solution for night hunters seeking affordable illumination because it perfectly fits AR-15s and a wide variety of other rifles.
This is quite possibly one of the best rifle lights for AR-15 for those who need a lot of power in a lightweight package. It functions well in all climates and conditions, making it the ideal hunting flashlight. It provides features for simple mounting and offers excellent value.
PROS
LED light with a powerful 800 Lumens.
For use with rifles like the AR-15 and others.
includes three light settings.
Weather-resistant and waterproof
polymer construction that is lightweight.
Best Versatile: Streamlight 88059 Pro Tac Rail Tactical Flashlight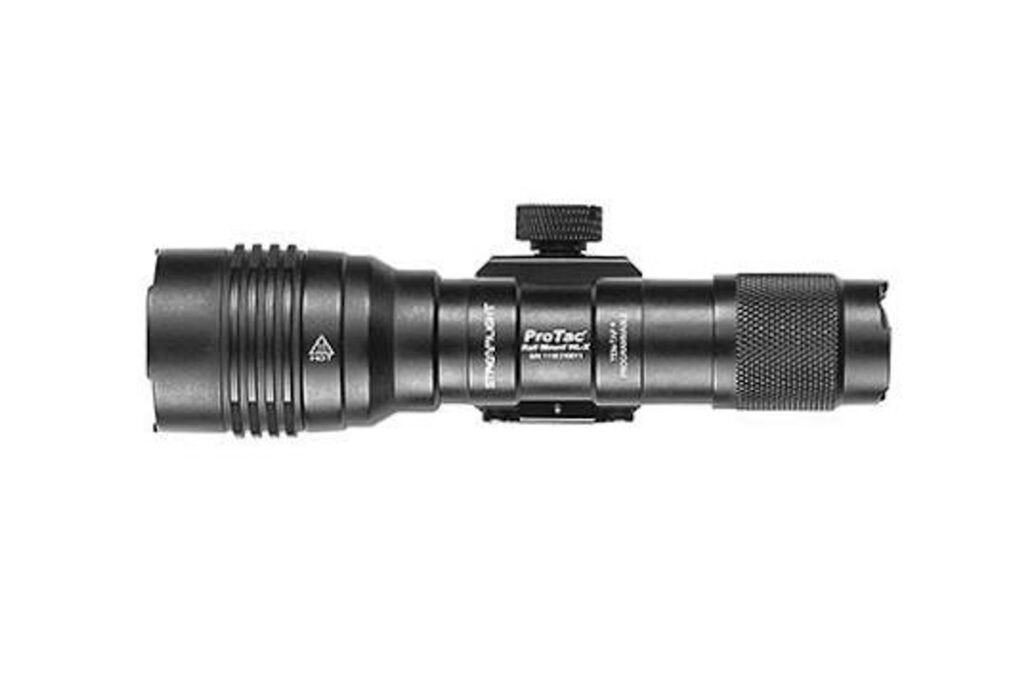 The second flashlight on my list comes from the well-known Streamlight brand, the 88059 Pro Tac Rail. They were all dependable and reasonably priced when I previously used a few of their products. The same applies to this model. This is a good option for hunters looking for excellent value simply based on the price.
It has a fixed mount that was created for a Picatinny rail and works with the majority of rifles. One of the most interesting features was the variable brightness settings that let you configure the light between 40 and 150 Lumen so you can use it effectively in indoor situations; this makes it one of the most versatile AR-15 flashlights that you can buy.
PROS
625 peak luminescent intensity
Lithium-ion batteries or AA batteries are options.
Two operation modes.
Picatinny rails' fixed-mount style.
both inside and outside the home.
Solid but lightweight construction.
construction using aircraft-grade aluminum.
CONS
It is sturdy despite being a little bit heavier than the majority of the competition.
Best Powerful: SureFire M600 Scout Flashlight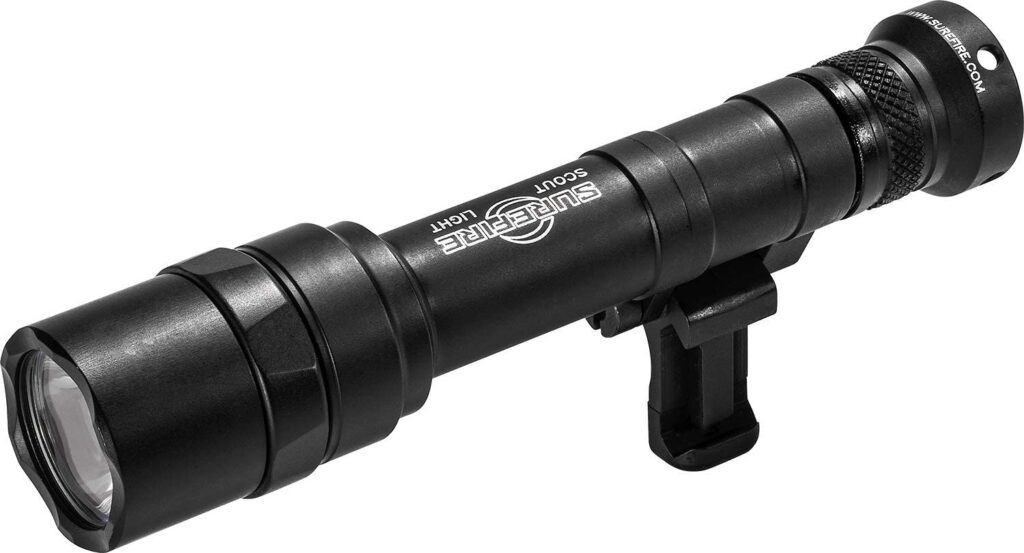 This SureFire M600 Scout Flashlight is a strong and well-liked AR-15 flashlight that is hard to beat. Users of rifles highly recommend it, and it truly does have a reputation that precedes itself.
Gizmo from The Gremlins will be uncomfortably squirming in his cardboard box because the light it produces is so bright, with a peak intensity of 1000 Lumens, and does live up to the hype.
This beauty is very useful for outdoor hunting activities thanks to its extremely bright LED output. The strong beam pierces the shadows like a hot knife through butter. It is truly amazing. It is specially made for AR-15s and other similar rifles and was developed for unmatched performance in the worst weather conditions.
PROS
For AR15s and other similar rifles, perfect.
1000 Lumens are incredibly powerful.
The LED beam is incredibly bright.
Made in the USA.
made of aluminum and hard-anodized.
Durable yet lightweight construction.
Features To Look For In An AR-15 Flashlight
There are a few essential features that are suitable for all AR-15 users, though the specific features you should look for in a flashlight largely depend on the use you make of your rifle.
A Lightweight, Compact Design
Nobody wants their rifle to be hindered by or weighed down by a bulky, heavy flashlight. Look for a suitable light that is reasonably portable and light in weight while still offering the required durability.
There's no need to choose anything that will increase the weight of your rifle by more than a pound or prevent you from adding more optics when there are high-quality, compact AR-15 flashlights available that weigh as little as 3 oz!
Easy To Use
The best flashlight will be straightforward and simple to use. AR-15s are serious weapons designed for serious uses. The last thing you want is to be hindered by a challenging flashlight design, fumbling around in the dark looking for the on/off switch!
Select a light with controls that are simple to use and within arm's reach, even in complete darkness. To avoid ever having to adjust your grip to turn the light on or off or change your settings, you might also want to look for one with ambidextrous controls.
Easy To Install And Remove
When using a powerful firearm like an AR-15, you should pick a flashlight that is simple to mount and remove as required. You should try to find a light that has a clamp-on installation and removal system.
Avoid lights with these mounting systems if possible because you don't want to fiddle with any tools or screws that will slow you down.
Durability And Strength
When choosing a flashlight for your AR-15, durability is likely one of the most crucial factors to take into account. To ensure a long working life, you should make sure the light you buy is constructed from sturdy, weather-resistant materials.
Aluminum is a top-notch material. It's resilient, strong, and typically impervious to corrosion and water. The drawback is that adding aluminum and other metals can significantly increase the weight of your light. Try a polymer-made light if you'd prefer something a little lighter.
It's not as strong or long-lasting as metal, but it's still a tough material that frequently appears in weatherproof construction.
Good Battery Life
When choosing the right light, long battery life is a crucial factor, especially for hunters who use AR-15 rifles!
As a general rule, look for a light that has a battery life of at least an hour. The longest battery life is frequently found in tactical flashlights!
If you prefer rechargeable batteries to disposable batteries, you might want to look into those options. Given that you might be out in the field for a while and don't want to have to lug extra batteries around, this is especially true for hunters.
Adequate Brightness
You should take into account the primary use of your flashlight when deciding on the appropriate brightness level.
A brighter light is necessary for hunting. It will probably be completely dark when you go night hunting in the woods. Your accuracy and control will increase as a result of using a light with at least 500 lumens to help you quickly locate and immobilize your target.
However, a light with fewer lumens might be more beneficial for home or self-defense applications. Avoid accidentally going blind in the commotion and giving the intruder the advantage!
Versatility
Selecting a versatile light is essential if you use your AR-15 for several different things. For a variety of conditions and circumstances, a light with an adjustable beam and brightness is ideal.
You can project a wide, dimmer beam to scan a wider area or shine a focused, bright beam to blind your target or attacker.
If you're left-handed, you might also want to look for an AR-15 flashlight with ambidextrous controls. This makes it simple to quickly operate your light without changing your grip at all.