Your plants will benefit from grow lights, especially in the winter when there is less light. There are many different seed-starting light options available, as you may have observed if you've recently been shopping for grow lights. They come in a range of hues, forms, and costs. The top 9 grow lights for seedlings are listed in this article. Select the one you prefer as you continue reading.
How To Select The Best Grow Lights For Seedlings?
Shapes And Sizes
Grow lights are offered in a range of sizes and shapes, including clip-on rods, long shop lights, and bulbs that resemble those used in lamps. The ideal size and shape for you will depend on how you have set up your seed starting system.
The ideal location for your light is directly above your seedlings. They will stretch to reach it if it's off to the side or too high above them, which leads to thin, weak stems.
As a result, if you only have one tray of seedlings, a single bulb model will probably be adequate, especially if you have some additional natural lighting, like a bright window. To ensure that the light is distributed more evenly, a tube light the length of your seedling tray would be a better, though typically more expensive, option.
A longer shop light will enable fairly uniform coverage across your trays if you're starting multiple seedling flats.
Bulb Technology
Most gardeners either use fluorescent or light-emitting diode (LED) bulbs. Other grow light types exist, such as sodium vapor lights, but they are more difficult to find and used in industrial greenhouse settings.
Gardeners' preferred seed-starting bulbs for a long time were fluorescent shop lights, but LEDs have quickly taken their place as the industry standard. The cost of LEDs is typically higher than that of fluorescent bulbs, but they have a much longer lifespan and are much more energy-efficient.
They come in a wide range of sizes and shapes and do not generate excessive heat. Both kinds are typically sold in garden centers, online, and at nearby hardware stores.
Light Color
The spectrum of photosynthesis-active radiation, which includes wavelengths from 400 (violet) to 700 (red), is used by plants. Typically, plants use more red light later in their life cycles when they start to flower and produce seeds and less blue and blue-green light when they are seedlings.
Use grow lights with the labels "blue-green spectrum" or "balanced light spectrum" if you're only using them to start seeds or grow leafy vegetables. It is increasingly common for lights to be labeled "for greens and seeds" or "for flowers and fruit".
Led Output And Power
We advise considering the LEDs' output in your potential light when choosing your ideal indoor grow light. Between 45 and 80 Watts of light output are required by the typical small grow light for seedlings. Your plants will grow to their full potential with that many lumens.
Led Quality
Your grow light's LED quality has a huge impact on how long it last. You should have at least 10,000 hours of service from a typical, high-quality T5 LED before it needs to be replaced.
Light Spectrum
When purchasing your grow light, it is imperative that you consider the wavelength that the device emits. For the best results in plant growth, full-spectrum light is required. Look for models with a complete PAR spectrum that includes both red and blue wavelengths. The white light will also be present in some models.
Lighting Modes
Different lighting modes should be available on your LED grow light. In order to suit your preferred growing conditions, look for models with blue, red, and full-spectrum modes. Your plants' growth is impacted by the lighting settings.
Red, blue, and white LED light balance is referred to as PAR. High PAR ratings are found in top models, giving you the best performance from your new grow light.
Timers
For seedlings, timers are a feature of the best grow lights. Depending on the requirements of your plant, you can set your light cycle to three hours, six hours, or twelve hours.
Your light's timer, which lets you regulate the light cycle, is a useful feature. You will have to buy a timer separately or use manual operation if your model doesn't include one.
Reflectors
The light output is amplified by a reflector, which also helps to increase the LEDs' light intensity. Depending on the design and materials used in the reflector, some reflectors can increase the lumen count by as much as 30%. The best reflectors are designed and built from materials like polished aluminum or mylar.
A reflector is not a necessary component of your grow light setup. To hasten the growth of your seedlings, we advise looking at models with reflectors, though. While some models have removable hoods, others have fixed ones.
Propagator Hoods
If you are starting cuttings, a humid environment is necessary to aid in the germination process. A seedling tray, a clear hood, and an LED light on top make up a propagator, a type of lighting setup.
With this configuration, you can keep heat and humidity inside the growing space. Thus, your plants root more quickly. For growing seedlings, propagation kits are another excellent option. Growth is accelerated by the additional moisture and heat.
Adjustable Light Height
You must raise the light as your plants grow in order to maintain the proper distance between them and the canopy.
The foliage will burn and the plant will not grow as quickly if the light is too close to it. For quick adjustment of the light height, some models have gooseneck arms, while others have hanging cables or telescoping legs.
Seedling Trays
Trays for seedlings are included in some models but not in others. The unique arrangements with built-in seedling trays are appealing. You can get a plug-and-play system from them that is functional right out of the box. The majority of nurseries and big-box stores sell seedling trays, which are generally inexpensive.
Best Grow Lights For Seedlings
Best Overall: GE LED Grow Light Bulb
The GE BR30 is our choice for the best grow light overall. This balanced-spectrum bulb provides high-quality lighting that promotes the growth of houseplants, indoor gardens, cacti, and flowers throughout the year.
It produces gentle, natural illumination and warmth, as opposed to some other grow lights that produce harsh lighting. You can grow herbs, lettuce, cucumbers, peppers, and other vegetables indoors thanks to the balanced light spectrum it is designed to provide for seeds and greens.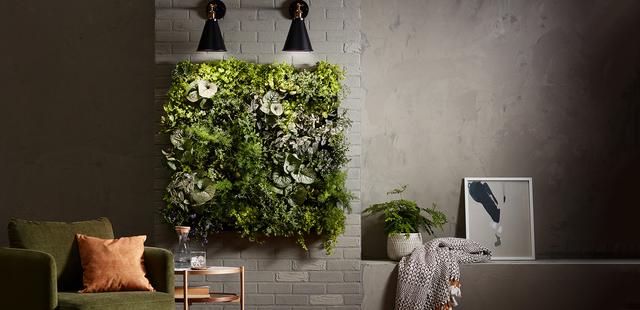 Pros
Affordable
Fits in most lamps
Soft, natural white light
Cons
Requires a nearby lamp
Burns out within a few months
Best For Houseplants: Ankace Grow Light, 3 Head Timing, 5 Dimmable Levels
The Ankace 60-watt tri-head grow light takes up very little space, but not all homes have enough room for large hanging grow lights. We chose to use the nearly 3-foot-tall three prongs on the Ankace light to supplement ambient lighting for a houseplant that was beginning to look pretty worn out after spending the winter in a dimly lit room.
Each of the flexible prongs can be positioned over or around the side of a plant in order to distribute light as desired.
The grow light can be adjusted as well; we can select red, blue, or a mix of red and blue light. A timer and the option to dim or brighten the lights are included with the Ankace grow light, which makes it even better.
On a medium brightness setting, we chose the 12-hour-on mode. When all three prongs were placed over the plant, the light radiated outward in a circle about 1.5 feet in diameter, which is just enough space for a single houseplant.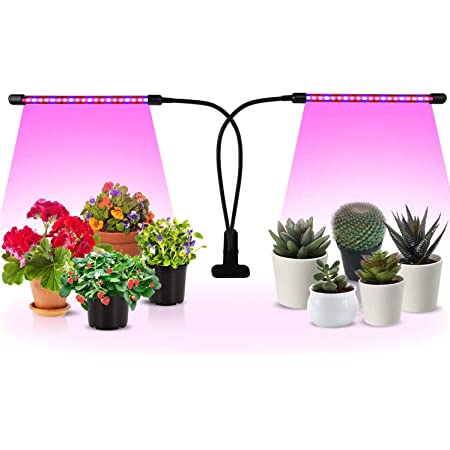 Pros
Handy timer
Select red or blue light—or both
Dimmable light output
Cons
Slightly warm on the red light
Best Expandable: 2022 New Spider Farmer SF-1000 LED Grow Light
Contrary to its name, the Spider Farmer light isn't intended for arachnid breeding. In place of that, it's a serious grow light that can be paired with other Spider Farmer lights to give a large area of plants healthy illumination.
An outlet is provided on the light's top so that additional lights can be plugged in. Additionally, it has a continuous dimmer that enables us to choose the precise brightness we needed. The light emits blue, white, red, and infrared (IR).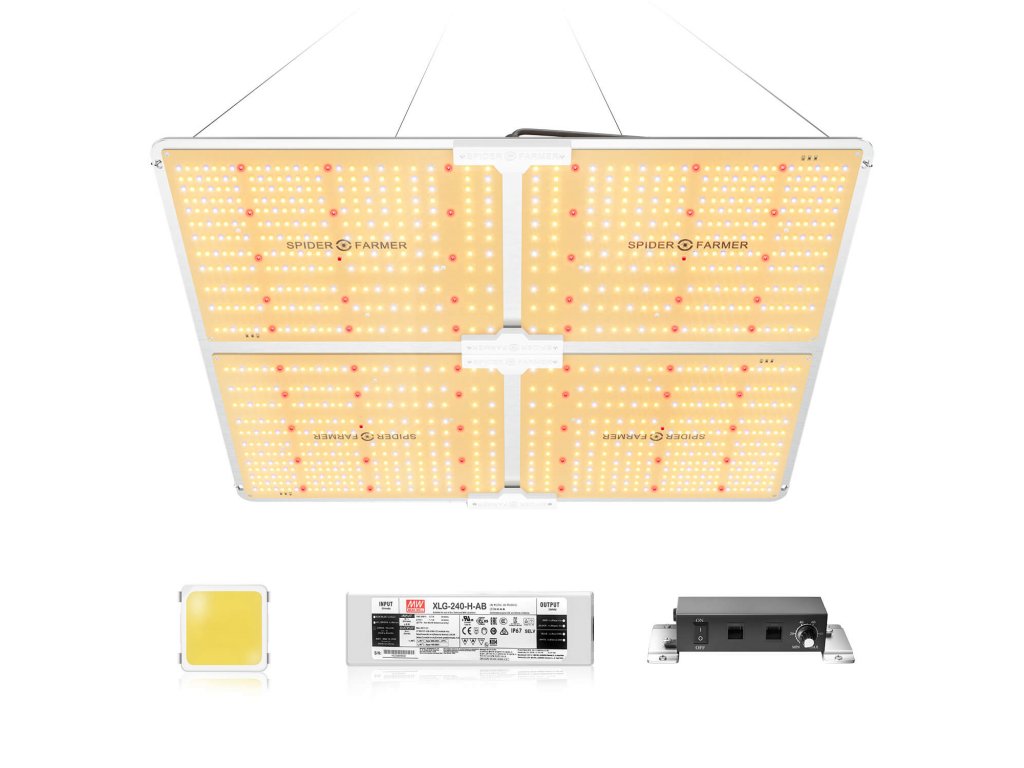 Pros
Very bright
Full-spectrum light
Adjustable intensity
Expandable
Cons
Best Tabletop: LBW Grow Light with Stand, LBW Full Spectrum 150W LED
The LBW Grow Light only requires a small amount of room on a table or countertop. A tripod stand that can be adjusted to vary in height from 15 to 48 inches is included. The LBW light can be set up on the floor if preferred, but we chose to place it on a table and angle the gooseneck light downward to light our plants from above.
The LBW light requires some assembly, but it's easy, and the maker includes the wrench needed to tighten the nut that attaches the LED head to the tripod. This grow light can be turned in any direction thanks to the flexible gooseneck, making it suitable for lighting plants from a variety of positions.
The LBW light shone brightly over a 1.5-foot diameter at a height of 18 inches above the plants; this was a small area, but it wasn't designed to compete with some of the hanging grow lights we tested. It didn't produce much heat, making it ideal for small seed-starting projects or individual houseplants.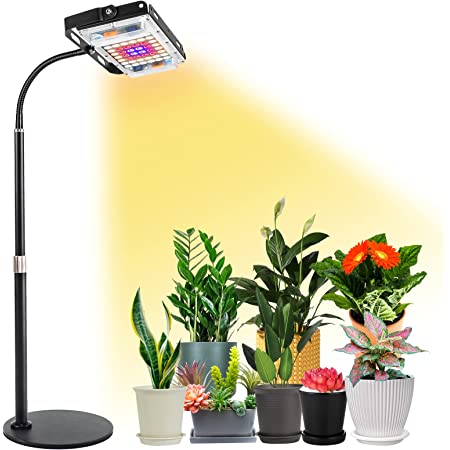 Pros
No hanging support required
Suitable for a tabletop
The adjustable direction of the light head
Adjustable height
Cons
No timer
Less bright than some
Best Adjustable: BESTVA Dimmable Pro 1000 LED Grow Light
For serious growers indoors, BESTVA offers a dimmable grow light. This grow light is ideal for getting seedlings off to a good start or growing plants year-round indoors thanks to the 224 potent LEDs in this panel, which illuminated the space almost as brightly as daylight.
The BESTVA light has a dimmer dial with marked increments, so the quality of the materials was obvious right out of the box. We can raise and lower the light as needed thanks to permanently anchored holes that are cut into the stainless steel top's hanging pulley system.
When turned to its maximum intensity, this powerful grow light illuminates a space that is roughly 3 feet by 3 feet at a height of 18 inches above the plants. Although the amount of light was greater than what we required for testing, a set of sunglasses is provided and would be useful for anyone using the light at its highest setting.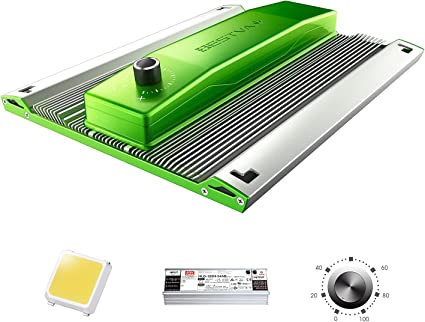 Pros
Very bright
Full-spectrum light
Pulley system included
Dimmable
Cons
Best For Small Pot: GrowLED LED Umbrella Plant Grow Light
The GrowLED Umbrella Light is arguably the cutest grow light available. The telescoping spike on this tiny light, which we used to direct light downward and directly onto the plant, is designed to be inserted into the soil of a pot. The Grow LED only provides cool white or red light, but it's sufficient to increase ambient lighting in a room or a home office.
The ability to be powered by a USB port or a regular outlet distinguishes this tiny grow light from others. Even on the highest setting, the light intensity is dimmable, and it didn't generate any heat. The umbrella is 4.5 inches in diameter, and the telescoping spike can be adjusted from just over 8.5 inches to nearly 30 inches, making it suitable for both short and tall plants.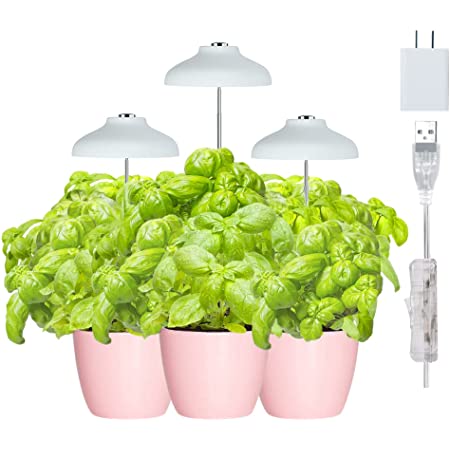 Pros
Suitable for small potted plants
Adjustable umbrella height
Dimmable
Comes with a timer
Cons
Not suitable for large plants
Best Versatile: Hydrofarm Agrobrite FLC32D Compact, 32 Watt
The Hydrofarm Agrobrite Fluorescent Bulb is adaptable and fits into a standard light socket while also emitting clear white light that promotes plant growth. The compact fluorescent light (CFL) is ideal for providing the additional light seedlings or potted plants need because of its long expected lifespan of up to 10,000 hours.
But because of how bright it is, you must use it in a fixture that directs the light away from the user's eyes. However, it wasn't enough to cause any problems. We only noticed a tiny amount of heat from the light.
When suspended 18 inches above the seedlings, the Hydrofarm light illuminated a region with a diameter of almost 2 feet. To avoid having to turn the light on and off every day, think about combining it with a fixture that has a timer for the best results.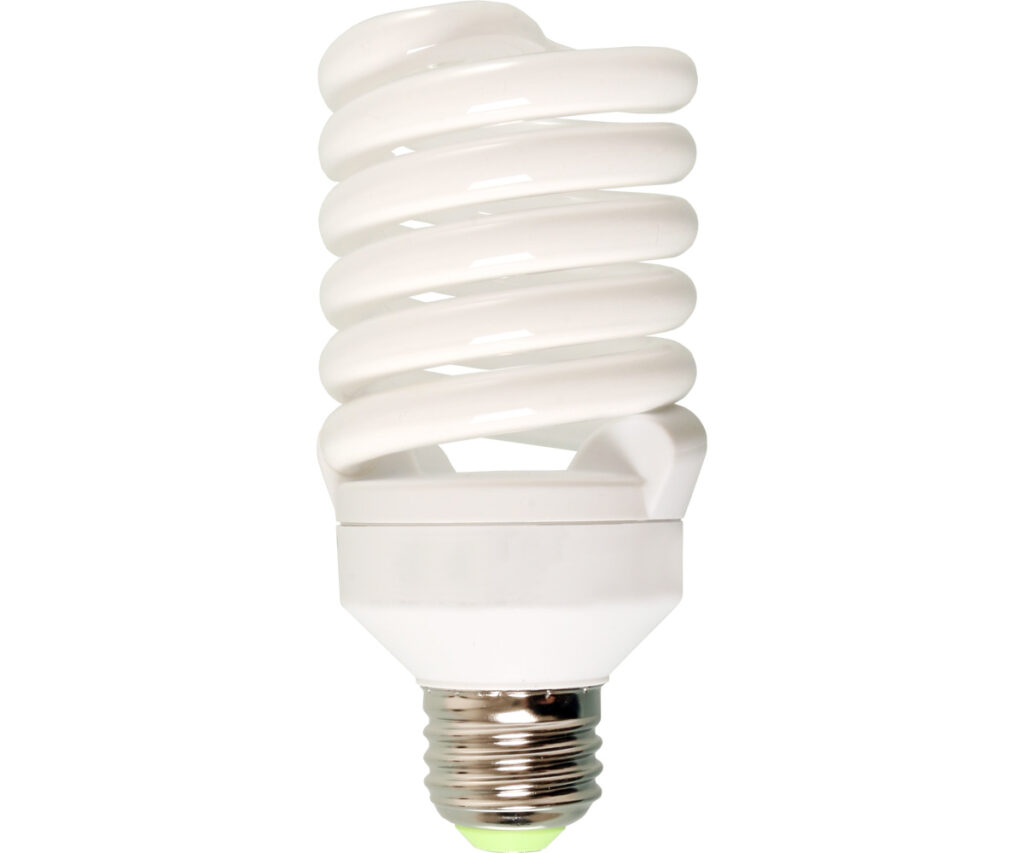 Pros
Very bright
Fits in standard light sockets
Useful for seedlings or houseplants
Cons
Just a bulb—fixture needed
Best Monitoring: Phlizon 2022 Upgraded 600W LED Plant Grow Light
The Phlizon Grow Light is ideal for those who grow plants indoors and are concerned about the temperature and humidity of the air around them. It has a separate humidity and temperature module that can be put anywhere close to the plants.
The source of the light emits a variety of blue and red light waves. The potted ivy plant was beginning to show signs of wear and tear from spending the long winter indoors, so we mounted the Phlizon light over it.
Instead of enhancing the health of a single houseplant, the Phlizon is probably better suited for growing several plants. Depending on the needs of their plants, users have the option of selecting either red or blue light.
The oblong light is 18 inches tall and casts enough light to illuminate a space that is 1.5 feet by almost 3 feet. It includes everything we needed to hang it from an overhead support and has a convenient pulley system for raising the light as plants get taller.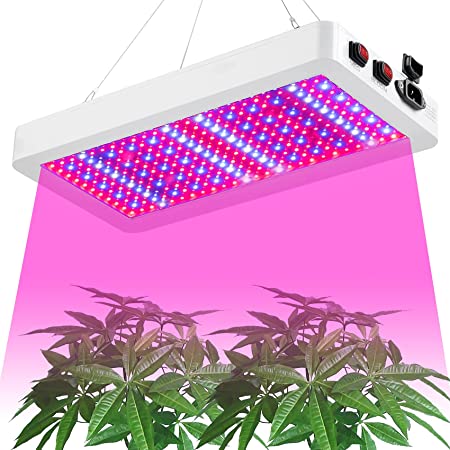 Pros
Well made
Ability to select light color
Pulley system for adjusting the height
Cons
Best Kit: AeroGarden Harvest Elite with Gourmet Herb Seed Pod Kit
The high-performance 20-watt LED light offers full spectrum light for growing a variety of herbs and vegetables.
It almost has the appearance of a high-end countertop kitchen appliance thanks to its sleek design and LCD control panel. The Harvest Elite is available in stainless steel, white, light green, and black finishes.
It is the ideal size for a tiny desk garden because it is only 11 x 4.61 x 15 inches. Six different herb seeds are also included in the kit; you can start using them right away because they grow in water.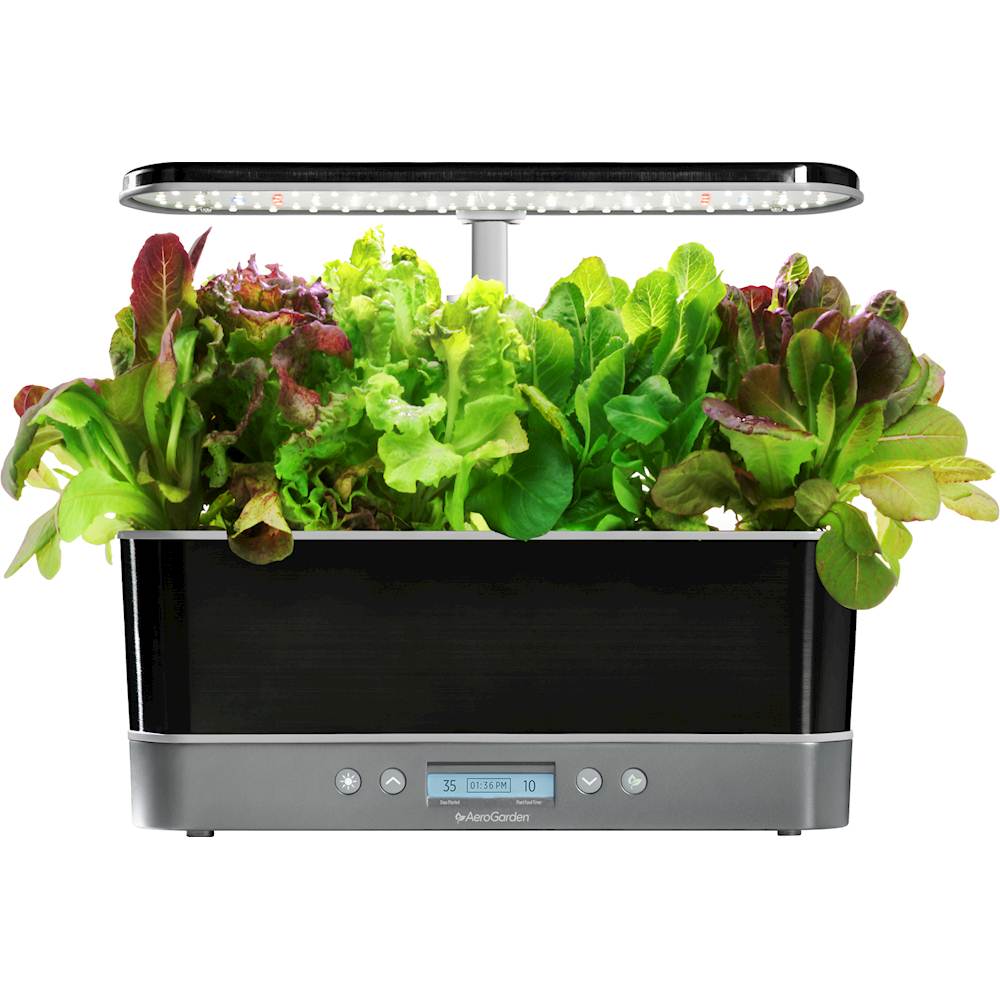 Pros
Full-spectrum illumination
Comes with grow pods
High-performance LEDs
Cons
FAQs
What Distance Between Plants And Grow Lights Is Ideal?
Grow lights should be put at least 2 feet away from your indoor plants to prevent overheating, though this depends on the wattage and light wavelengths used. However, since LEDs and fluorescent lights typically produce less heat, they can be positioned a little closer.
How Much Time Should Grow Lights Be Left On?
Depending on where you live, the time of year, and the type of plant, a grow light should be on for eight to sixteen hours per day to effectively mimic the sun's natural light. A plant that receives some natural light will typically require less artificial light, whereas a plant that receives no natural light may require the full 16 hours.
What Color Spectrum Would Be Best For My Seedlings?
It's important to research the system's output before making grow light purchase. Red LEDs encourage your seedlings to flower and bear fruit. They also simulate the shorter days of the season, allowing you to transition your plants into their flowering stage.
Red light is therefore crucial for growth, but it shouldn't be overpowering in your grow light. Blue light LEDs support your plants' vegetative growth. While it has the perfect spectrum for seedlings, red light is still necessary to balance it out.