Outdoor lighting isn't an unnecessary expense; it can prevent you from tripping on a dark path once more or from fumbling around in the dark for the right key. You can use outdoor lighting for purposes other than illuminating your yard at night. The right lighting can improve security, set the mood, and even help ward off insects. In order for you to select the outdoor light bulb of your choice, we have listed the top options in this article.
9 Best Outdoor Light Bulbs
Best Overall: Philips Hue White Outdoor
Pros
Offers a range of white tones
Dimmable design
Can be controlled via voice
Supports automation
Cons
Requires a Philips Hue hub
Philips Hue hub sold separately
For a reasonable price, the dimmable LED bulb combines durable construction with smart features like automation and remote controls. The bulb is bright, providing up to 1300 lumens, and works well for both ambient lightings when dimmed and floodlighting when on full beam. Depending on your mood, it also offers a variety of white tones, ranging from cool to warm.
Best Value For The Money: GE Classic 120-Watt Flood Halogen Light Bulb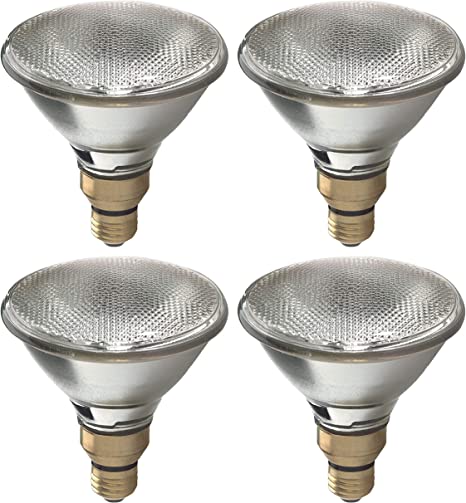 Pros
Exceptional brightness
Affordably priced
All-weather construction
More energy efficient than incandescent bulbs
Cons
Only a 1-year lifespan
Not as energy efficient as LED bulbs
Even though it is less expensive than more expensive LED floodlights, this value pack of six GE halogen bulbs still uses a decent amount of energy. The all-weather design of the bulbs makes them appropriate for use in lighting fixtures that are directly exposed to rain.
Halogens are also brighter than LED bulbs, with an output of 1,600 lumens, even though they don't offer as much energy savings.
Best For String Lights: Sunco Lighting LED Edison Bulb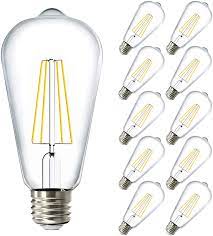 Pros
Ample brightness
Energy Star rated
Attractive vintage look
Cons
These bulbs are the perfect option for a patio or deck thanks to their retro appearance, robust construction, and 800 lumens of brightness.
These bulbs are ideal for outdoor fixtures with exposed bulbs, such as string lights, pendants, and wall lanterns, thanks to their traditional Edison light bulb shape and large 5.5-inch-long profile. The bulbs won't short out in the rain because of their weatherproof rating.
Advanced For Entry Lights: Sunco Lighting 4 Pack A19 LED Bulb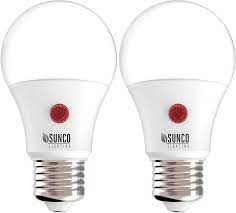 Pros
Photocell turns bulbs on and off automatically
Multiple temperature options
800-lumen output
Cons
No way to override photocell
For people arriving and departing at night, porch lights and exterior garage light fixtures offer both basic security and essential illumination. The issue is that many people fail to turn them on at night or off in the morning. A built-in auto on/off sensor on this set of Sunco bulbs makes that happen automatically.
The temperatures of the LED bulbs range from warm amber to soft white for insect-repelling effects.
Best Utility: Auzilar 40W LED Corn Light Bulb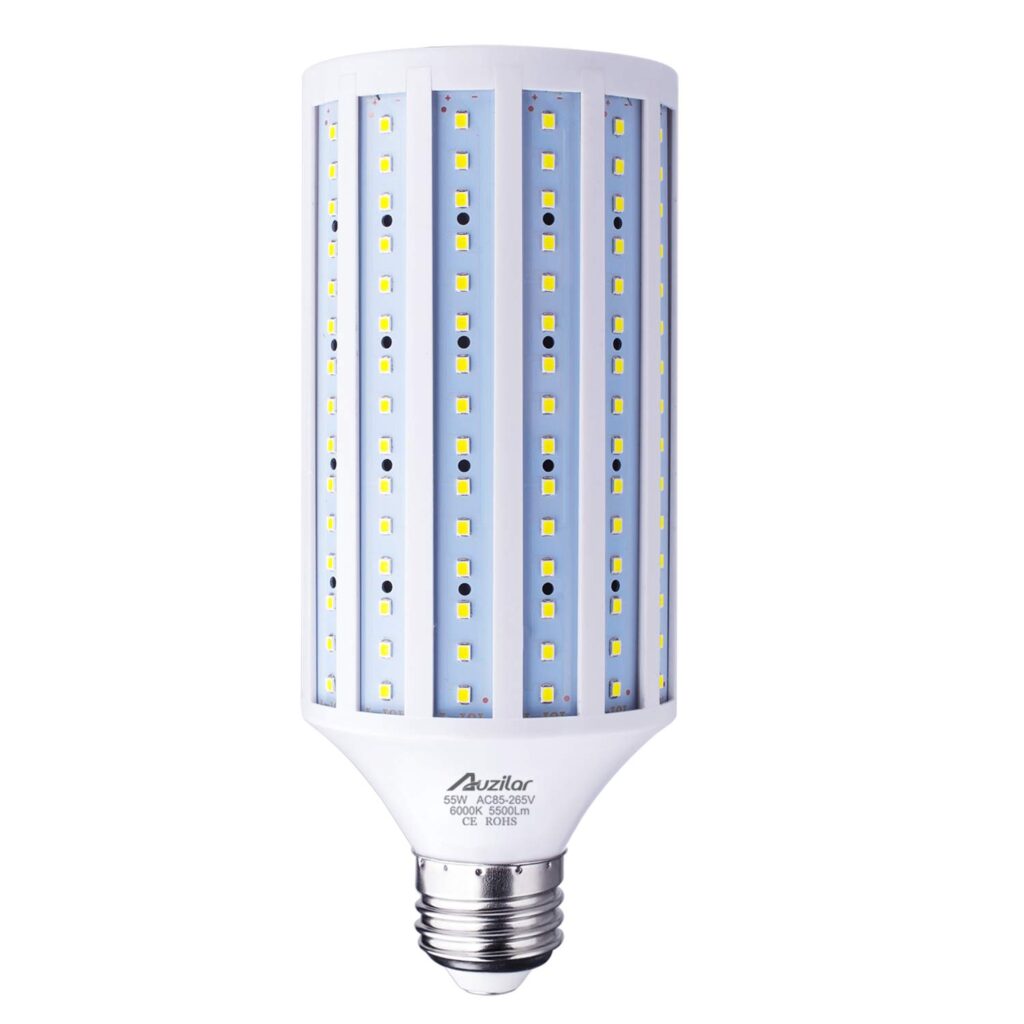 Pros
Very bright
Energy efficient
Long-lasting
Cons
Expensive
The odd shape and large size
This corn-shaped bulb from Auzilar is extremely bright, with a lumen output of 4,000 (12 times that of a 60-watt incandescent bulb). This makes it perfect for illuminating functional spaces like a driveway, courtyard, barn, or sizable shed. It uses only 40 watts of power, which is efficient despite its high light output.
It is comfortable on the eyes because the color temperature of 6,000 K mimics natural light. With a 6-inch length and a diameter of more than 3 inches, its high output makes it significantly bigger than most bulbs.
Best Wi-Fi: Geeni LUX Smart Floodlight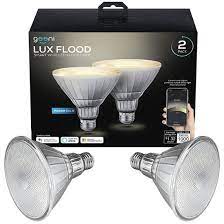 Pros
Controllable via a smart device
Does not require a hub
Only uses 11 watts
Cons
Not as bright as other floodlights
This Geeni model doesn't, which makes it a desirable option for people without a smart-home setup. Simply install the bulb and download the app to a smart service to get started. The Geeni app makes it simple for users to schedule lighting, control temperature, and brightness, and turn it on and off.
Additionally, it is compatible with digital assistants and modular smart-home services.
Best Bug Light: TCP 5 Watt LED Yellow Bug Light Bulbs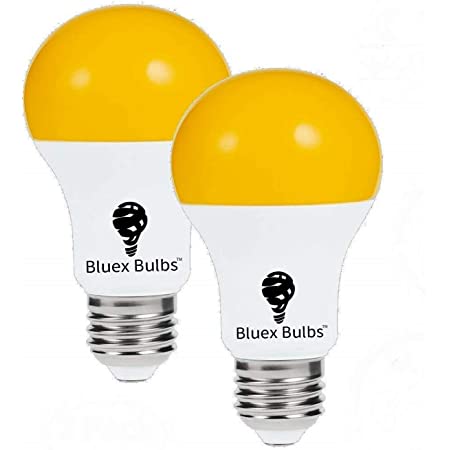 Pros
Yellow light won't attract bugs
Long lifespan
Uses just 5 watts of energy
Cons
Not as bright as bulbs higher on the temperature scale
This bulb is a great choice for lighting an outdoor living space without luring every pest in the yard because light at the low end of the color spectrum is almost invisible to insects. The bulb uses just 5 watts and produces soft, warm yellow light with visibility comparable to a 40-watt incandescent bulb thanks to its 3,000-K temperature, making it more energy-efficient.
Best Budget: Sengled Dusk To Dawn Light Bulbs Outdoor
Pros
Great value for money
Dusk-to-dawn mode
Natural light is easier on the eye
Cons
The design isn't waterproof
Not many smart features
If you're on a tight budget, the Sengled Dusk to Dawn Outdoor light bulb offers remarkable features at a reasonable cost. It lacks the smart features of the other lights on this list, but it has sensors that set it apart from a conventional, non-smart bulb.
Specifically, a photocell sensor that gauges the amount of light at dawn and dusk. The light comes on as the sun sets in the evening. The light goes off as the sun rises.
Best 360-degree: GTAREN Corn LED Light Bulb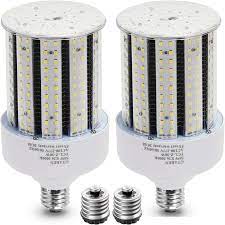 Pros
Bright, 360-degree light
Long, 50,000-hour shelf-life
Cons
Large design
It May be too bright for smaller spaces
Its resemblance to a corn ear is how it got its name. This bulb's 6,500 lumens, which it emits in 360 degrees, are comparable to a 400-watt incandescent bulb in terms of brightness. While only using a tenth of the energy, it accomplishes everything.
Read More:
What To Consider When Choosing Outdoor Light Bulbs
Types Of Outdoor Light Bulbs
LED: Although LED (light-emitting diode) bulbs are among the priciest options, they are also among the most energy-efficient. They are 90% more efficient than incandescent bulbs and produce less heat as well. They are identical in size, shape, and appearance to incandescent bulbs, unlike energy-efficient CFL bulbs.
Halogen: Despite burning much brighter than LED bulbs, halogen bulbs are less energy efficient, making them perfect for floodlights and security lighting.
Incandescent: Incandescent bulbs are by far the least expensive option, but they are also the least effective; any money you initially save on energy will be quickly consumed. As long as they are not subjected to precipitation and snow, these bulbs can be used outdoors.
HID: Since HID lights are incredibly bright and can illuminate a larger area than LED or incandescent bulbs, they are ideal for spotlights and floodlights that cast wide swaths of light onto the exterior of buildings or sizable trees.
CFL: For some types of landscape lighting, compact fluorescent lamp (CFL) bulbs are common. Despite their unusual shape, CFL bulbs may not be suitable for fixtures where the bulbs are visible despite their long lifespan and high energy efficiency.
Weather Resistance
Check the bulb's weather rating before purchasing an outdoor light bulb to find out how much exposure the bulb can withstand without shorting out. Some outdoor light bulbs are not water resistant and can only be used in fixtures with a protective housing.
Lighting fixtures that expose the bulb to precipitation and snow can use weatherproof bulbs.
Bulb Base
To fit various light fixtures, bulbs have various base sizes. The majority of floodlight, spotlight, and hallway lighting fixtures work with E26 base bulbs. Most lamps and light fixtures in homes have bases that are this size.
Brightness And Color Temperature
The brightness and color of the light produced by different bulbs vary. Lumens are used to measure brightness, and outdoor bulbs can have a lumen output as low as 150 for decorative flame bulbs or as high as 1,600 for some floodlights.
Using the Kelvin (K) scale, color temperature quantifies how warm or cool the lighting is and is expressed as a number. Lower on the temperature scale, between 2,700 and 3,000 K, is where warmer lighting will be found.
Around 3,500 K is the color temperature of soft white lightbulbs, while 6,000 K is the color temperature of daylight-like bulbs.
Energy Efficiency And Lifespan
Depending on the type of bulb used, outdoor light bulbs have a range of lifespans. The shortest lifespan is that of incandescent bulbs, which last only about a year before burning out.
The lifespan of halogen bulbs is slightly longer, lasting 2 to 3 years, while that of CFL and LED bulbs is the longest, lasting 6 to 10 years and 15 to 25 years, respectively.
Smart Light Bulbs
Smart features are available in some light bulbs. Those equipped with light sensors turn on at dusk and shut off at dawn. With more expensive smart light bulbs, you can use an app or a smart home hub to control them from a phone or tablet.
Many of these lights will even function with voice-activated digital assistants like Amazon Alexa and Google Assistant.