In my bedroom, there is a TV mounted on the wall. LED light strips were one of the first modifications I made.
I liked it so much I found myself turning the TV on just to get the mood lighting. A light source behind a TV or computer screen can also serve as an accent light source and reduce eye strain.
Here are a few simple steps to add LED lights behind your TV quickly and easily.
Decide How You Want to Control the Lights
Do you prefer using mobile apps or handheld remote controls? These are your main options for managing the lighting behind your TV.
Each can essentially function as a power button, mode selector, and color changing source. However, each has some advantages and disadvantages.
Wireless Remote Control
The wireless remote is ideal if you don't want to deal with bluetooth or have another app on your phone.
Yes, most strip light kit remotes are kind of small, but once you get your light settings dialed in you can set it aside.
App Controlled
Using an app is another possibility to think about if you frequently misplace your remotes, as I am prone to do.
You'll most likely be watching with your device close at hand. You can have total control over how your lights are programmed, how their color changes, and any other settings that you like.
Depending on the brand of light, they'll have a native app you can download for free.
Do you have any other smart lighting in your house? Do you have any future plans to add more lighting? Try to use the same brand throughout, if so. Without having to add additional accounts, this will make syncing and maintaining it simple.
How to Measure Your TV for Back Lighting
The good thing with LED strip lights is that most can be cut to size or come pre-cut.
Are all four sides required to be covered? Consider your unique set up to see that it's not always the case.
Your monitor or TV will always serve as the focal point. Not to be intrusive or distracting, the lighting is not intended to be. LED strip lights that are overstocked are always preferable to understocked ones.
To measure your TV, just grab a tape measure:
Keep in mind the inch width and height measurements.
Since we require all four sides, double those figures.
To determine the quantity of strip lights in feet, add those up and divide by 12.
43 Inch TV Size:
You will need about 9 feet of LED strip lights to completely surround a 43″ TV on all four sides.
I have a 43-inch TV. Actual outside edge measurements are 38 Prime inches from side to side and 22 Prime inches from top to bottom.
If I add those up, I have a total of 120″ that I need to cover with LED strip lights.
Remember that you won't likely use the LED strip lights along your TV's outermost edge. It'll most likely be minus few inches on each side. Therefore, it will most likely be closer to 104″ in the case of my 120″ example.
65 Inch TV Size:
To cover a 65″ TV on all four sides you'll need about 14-16 feet of LED strip lights.
Around 59 Prime feet are measured from side to side, and 38 Prime feet are measured from top to bottom.
The total length would be 194 inches if we wanted to cover all four sides with strip lights on the back. To convert the measurement to feet, divide that by 12; the result is roughly 16 feet.
Again, you'll most likely not place the strip light on the outer most edges behind the TV. So, minus a few inches on all four sides gives us 14.5 feet.
*Pro HintWhen attaching your LED strip lights to the back of a TV, perform a dry run. You will be able to account for any protruding or concave surfaces and make precise cut lengths as a result.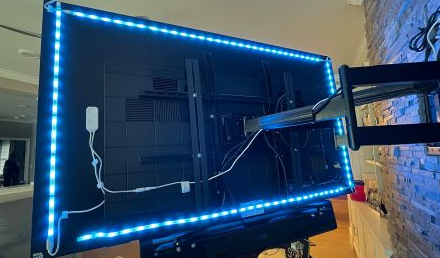 How to Install LED Strip Lights Behind a TV
Although installing LED lights on your TV is not difficult, there may be some unanticipated consequences.
LED Strip lights have extremely sticky 3M adhesive. It's very challenging to remove after it has been applied and peeled off.
Ensure that you layout the lights beforehand and use any measurements that can help with the correct placement.
Use the Manufacturers Installation Guide
Each brand may have specific methods to their products installation. This is significant in terms of LED lighting. If you have an app controlled product, be sure to download the appropriate version.
Clean All Surfaces
TVs get dusty. Make sure you're adhering your strip lights to a clean surface thats dust free. In the absence of this, your tape may crease over time as the adhesive lifts.
Watch Out for Uneven Surfaces
Be sure to attach the strip light roll to any protruding or concave surfaces on the back of your TV monitor if it has any extra give.
If you don't have any extra strip light tape, just draw a straight 90-degree line. As long as your lights are adhering securely to a segment, you shouldn't have any sagging issues.
Use Angle Connectors at Corners
Avoid bending or creasing strip lights as much as you can. It can damage the tape and prevent the light from function properly.
If you do need to bend the strip lights, make sure you are giving it plenty of slack. Alternatively, connectors are present on most brands. The connectors are placed where a corner should be between two sections of cut strip light.
USB Connections
Adding lights to the back of your TV is easiest with a USB powered strip light. You can plug a few devices into the ports on most TVs. Nevertheless, if necessary, you can use conventional LED strip lights with wired plug-in power supplies.
Dial in Your Light Settings
You can use your creativity here. There are many options to choose from—choose the color, the brightness, or dim them down or up.
No matter what product you decide to use as a light source, be sure to take the time to familiarize yourself with the settings and features.
How to Determine Which TV Led Strip to Choose?
TVs increase the enjoyment of watching television, but they also necessitate some lighting in order to fully appreciate the program. We have found LED strip lights that provide an extra amount of brightness without causing eye strain as well as looking nice because most people purchase a light for their entertainment center only to discover that it isn't quite enough when you're trying to watch your favorite shows in low light or even at night! They come in many colors with options like white, red, green, etc., all depending on what is best suited for your mood.
Prefer multiple colors
If you want to simulate watching television in a theater, RGB LED strip lights are a fantastic option. You can choose different lighting colors for different genres inside. Installing LED lights in your home will improve your viewing pleasure whether you're watching a fake documentary, a hilarious comedy, or a suspenseful thriller.
You can play around with its brightness levels
Additionally, you can control the brightness with this feature, which gives you the freedom to use lighting effects in a completely new way.
Optimal length
Before looking for LED strip lights, it's a good idea to measure your TV because you'll need to know how long it is to get the right length. If you want to use LED strip lights to illuminate your 65-inch TV, nearly all of them will be ideal. Also, each of these products has four strips of identical length, which allows you to arrange each strip to fit the size of TVs. If you buy a continuous strip, you may use it to trim off the extra at a "cut" point on the edge of your TV.
Should Have a WiFi Connection
Smart LED light strips with WIFI capabilities may be connected to a network. A remote control, a mobile app, or voice control can all be used to modify the lighting pattern. The non-smart strip lights can only be controlled with remote control. It is entirely up to you whether or not you buy a smart model, depending on your own personal requirements. Smart devices are handy and simple if you have a voice assistant or prefer using a smartphone app to interact with them. Remote control will suffice if you only plan on using the device occasionally. Alternatively, you may choose the simple strips at a cheaper price.
Can the Colors Change Or Sync Depending What's on TV?
It is possible. It takes some calibration and some extra dollars for an LED light strip kit with a camera though.
The camera is mounted on the edge of your TV and has its field of view optimized by being calibrated to the edges. For accurate color display, it will then connect to the lights behind the TV.
Syncing your TV to your lights can make your TV really pop. Make sure you will have your TV and other related equipment for the foreseeable future if you choose this course of action. Installing and configuring this involves a larger financial outlay.
55-65 inch TV RGBIC ambient WiFi strip lighting. comes with a camera to record TV colors for wall displays.
What Are the Benefits to Having Lights Behind a TV?
Imagine yourself in a pitch-black space with only one light source.
You've probably spent a lot of time staring at your phone in bed, working on your computer, or watching a movie in the dark.
Without another source of light in the area, doing this could strain your eyes.
You increase ambient light when you add lighting behind your TV. Even though it does so subtly, it reduces general eye fatigue and can enrich the viewing experience.
If you want to incorporate lighting into a gaming room, bedroom, home office or home theatre, you'll quickly come to appreciate what lighting can offer.
Time to Put on Your Favorite Flick!
You receive a fantastic reward for such a small DIY project. You'll be grateful you added LED lights to your TV each time you turn it on.
Enjoy the film and the popcorn