A penlight is a portable, highly adaptable flashlight. Penlights are distinctive in that they can conveniently fit into a shirt pocket or clip onto a cap, even though there are other small flashlight types for everyday carry.
The best 9 penlights available are listed below for those who have room in their pockets for one more item of daily carry. Pick the one you like best as you continue reading.
What Distinguishes A Tactical Flashlight From A Penlight?
When compared to a standard flashlight, tactical flashlights and penlights are more effective, dependable, long-lasting, well-built, and high-quality products. The production of tactical flashlights specifically for use in military operations is the only distinction between the two. Penlights, on the other hand, are created for everyday use by people in the general public and the medical community.
Best Pen Lights To Buy In 2022
Best Overall: Streamlight 88033 ProTac Professional Tactical Penlight

The Streamlight 88033 is a long-lasting tactical flashlight and penlight combo. It is ideal for use by military and law enforcement personnel and comes with a push-button tail switch that makes switching between programmable modes simple whenever you need it.
This qualifies it for a tactical overhand carry where you use your thumb to control the light.
It has two useful features for law enforcement or military applications: a variable light output and a strobing function. Its casing is strong and resilient, and it can withstand drops and prolonged submersion in water.
Best Rechargeable: Coast HP3R Rechargeable Focusing Penlight

The Coast CREW HP3R offers a strong, ultra-focused beam of up to 245 lumens, making it one of the brightest penlights on the market. This is a significant amount of light coming from a tiny source. It works well for inspecting delicate electronics, performing mechanical work in poorly lit areas, and using outside. I love that it's simple to recharge with any micro-USB cable because I use this one a lot. It also includes a fantastic and practical reversible clip for attaching it to any baseball hat.
The charge port is concealed to keep it out of the elements, and the outer casing is both easy to hold and incredibly durable to withstand damage from things like drops or being run over.
Best Medical: Nitecore MT06MD Medical Penlight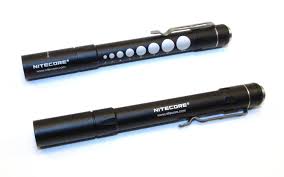 A reputable manufacturer of flashlights is Nitecore. Products from this company include tactical, general-purpose, outdoor, and medical items. Furthermore, the MT06MD is one of the best medical flashlights you can purchase.
Its high runtime on two AA batteries (up to 35 hours) and excellent close-up color rendering make it ideal for close-up work. It makes use of a Nichia 219B LED, which generates a warmer beam color with a lower peak intensity than substitutes.
Details and colors are well revealed by the resulting light. It defaults to being on in the low 4-lumen mode, which is optimized for medical use.
This helps when checking for pupil dilation because it prevents unintentionally flashing patients with bright light. It is easily clippable onto a lab coat pocket and weighs less than one ounce.
Best Budget: Infray LED Penlight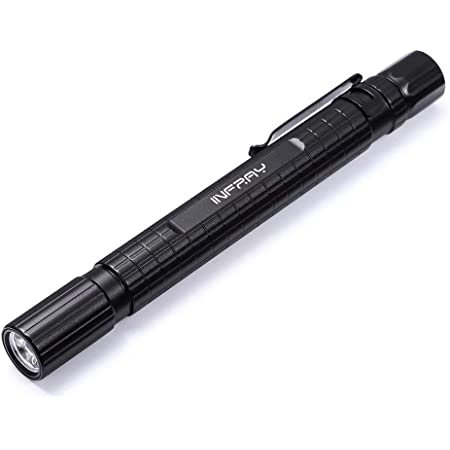 Despite its small size and affordable price, the mini LED flashlight from Infray has a powerful beam. This is a wonderful addition to your regular tools that will ease your life a little bit for those who work in maintenance or who simply want a dependable, small backup light.
The light can be adjusted to focus on various situations and has a respectable runtime using simple AAA batteries. The aluminum body can withstand quite a beating, making it the perfect choice for people who work in demanding environments all day long.
Brightest Penlight: ThruNite Archer 2A LED Penlight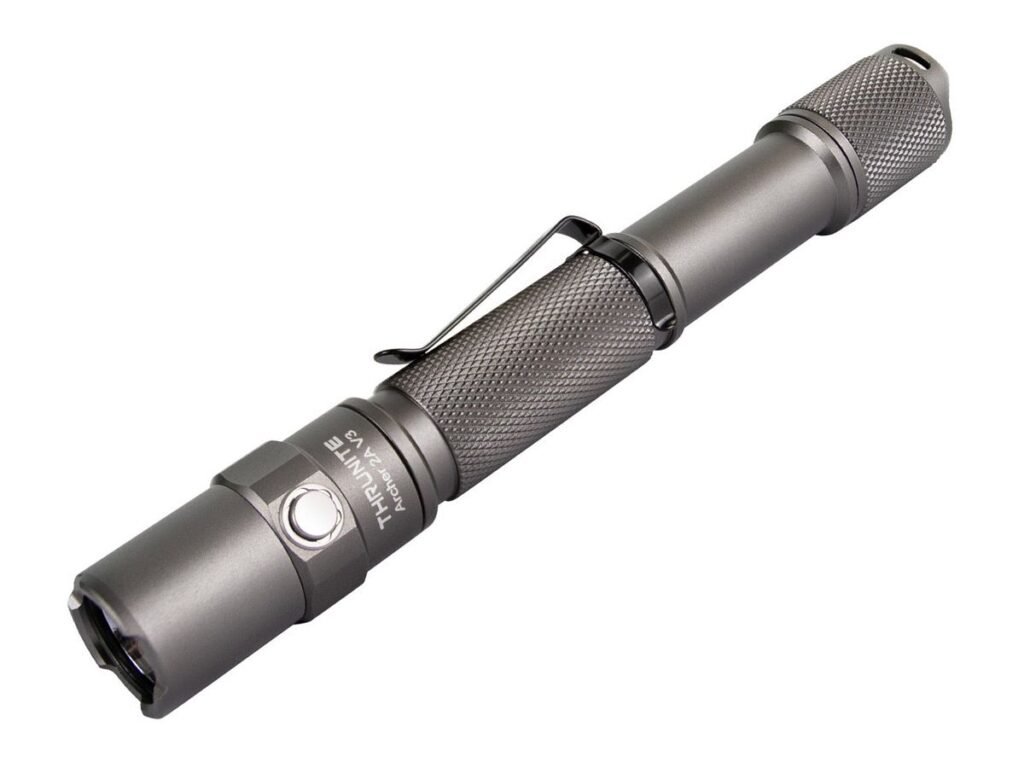 This penlight is the brightest on our list, with a maximum brightness of 500 Lumens. A powerful flashlight with a low price is the ThruNite Archer 2A.
Depending on your needs, it has five modes, including strobe, that are simple to switch between. Without taking up a lot of room, it is compact enough to fit easily in pockets.
The battery life is impressive at 28 days on the "firefly" setting, while higher settings will help illuminate deep, dark areas of the world as though it were daytime. It runs on simple-to-find AA batteries.
While this does result in a cost-savings at the time of purchase, fueling up eventually becomes more expensive.
Best Portable: Risemart Diagnostic Penlight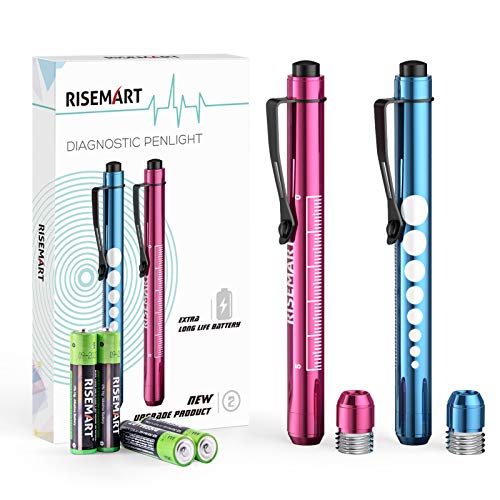 The portable Risemart nursing penlight is made of aluminum alloy. Four batteries are included in the package, and there are two colors available for the penlight. An estimated 100,000 hours are in the life of the LED bulb.
To prevent the power from accidentally turning on, a tough rubber switch is located on top. The white light setting is used to check the nose, ears, and throat. It has two light settings. The warm color light is suitable for checking the eyes.
Professionals In Medicine Should Use: Cavn Pen Light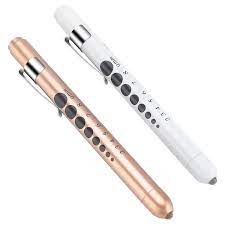 Cavn penlights are made of high-grade aluminum alloy and long-lasting LED lights. Two different LED light colors, a pupil gauge, and a 5cm ruler are all included in the package.
The penlight has an on/off switch and a pocket clip, making it ideal for medical professionals. Two AAA batteries are included with the product.
Best With Anodized Aluminum Shell: Hatori Super Small Mini LED Flashlight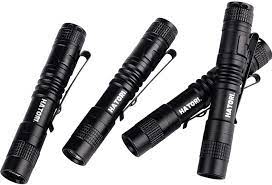 A single AAA battery powers the teeny, tiny mini LED flashlight made by Hatori, which has a bright output of about 150 lumens. The flashlight has an anodized aluminum shell, which is robust, durable, and water-resistant.
The flashlight has a keychain attached for convenience. The flashlight has an easy-to-use clip and a bottom switch button that makes it simple to turn on and off.
Best Waterproof: Nebo Inspector Rechargeable Flashlight

The Nebo rechargeable flashlight comes with a lithium rechargeable battery and makes use of cutting-edge Flex Power technology. Two AAA batteries are also required to operate the flashlight. The item is waterproof up to one meter and has an IP67 rating.
It has a detachable steel belt, which acts as a pocket clip and makes the product easy to carry without any risk of loss. You can zoom in four times and look precisely into very dark areas thanks to the button's three light-adjustment features.
How Should I Choose The Right Penlight?
How Will You Use It?
When purchasing a penlight, this should be the first consideration. The needs of an electrician and a nurse are very dissimilar, so it's important to think about how you'll use the light the majority of the time.
Convenience
The main benefits of a penlight over a conventional, heavier flashlight are portability and ease of use. Your penlight should be small enough to fit into a front shirt pocket, a trouser pocket, or a backpack without difficulty.
Consider each light's weight in relation to your intended use as you examine it. Remember that a pocket clip can come in very handy and that, in some cases, you can turn it so that it clips backward onto a hat brim.
Construction
Take into account the product's design and whether it meets your needs. If you use a penlight because you enjoy being outside or because you have to have one for work, it must be dependable and durable. Look for metal construction that is water-resistant in those circumstances.
Additionally, it is wise to make sure your penlight is shockproof and waterproof if you plan to use it outside. Since they range from completely submersible to splash-resistant, check the waterproof and shock ratings on each light.
Ease Of Use
This brings us back to our original goal once more. A strobe feature can be very helpful for law enforcement personnel. A strobe, however, is dangerous for medical staff and might have negative effects on patients. Therefore, think about the features of each light and make sure they meet your needs.
Runtime
Runtime varies greatly between lights but typically depends on the battery type, light output, and type of LED. Runtimes ought to be numerous hours for those who will primarily use low-power outputs (such as medical professionals).
On the other hand, powerful penlights typically only last an hour or less on high before needing new batteries.
Battery
While some batteries are more difficult to find than others, the majority of the penlights we've recommended run on easily accessible batteries, primarily AA and AAA.
The runtime, brightness, and dependability will all have an impact on the battery life and source, so if this is the only way to power your specific penlight, be sure to keep a backup source handy.